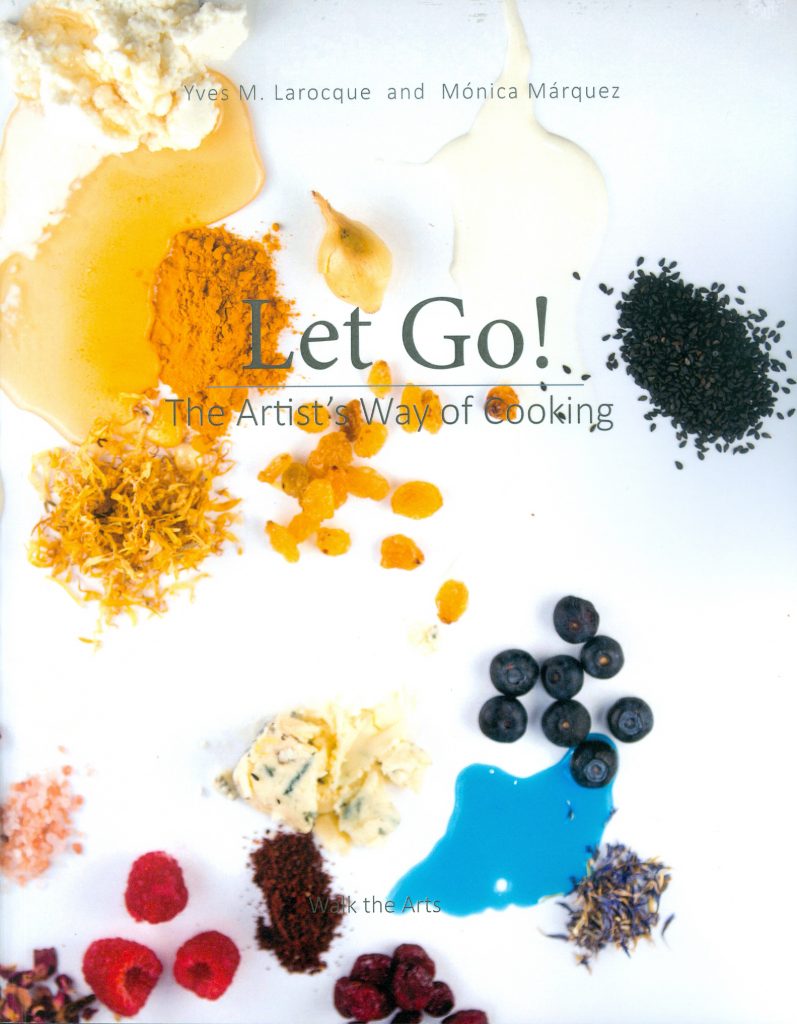 Let Go! The Artist's Way of Cooking
This new cookbook offers a simple and innovative way of cooking based on color harmonies that will help you release your creativity in the kitchen.
Inspired by Italian art and cuisine, this book will guide you in your personal adventure to "let go" and become a culinary artist. You will learn how to cook the way artists paint. You will learn how to transform your kitchen into an artist's studio and your meals into works of art.
This book explains in a simple way the basics of color theory that you can easily apply to your dishes. It also gives practical tips on how to let go and experiment as artists do. The book includes more than one hundred unique and easy to prepare recipes and the tools to create your own. Moreover, each recipe is paired with the appropriate Italian wine.
Let Go! The Artist's Way of Cooking is intended not only for those interested in cooking, but also for art and art history lovers, Italophiles, lifelong learners and everyone seeking to infuse her or his everyday life with beauty and creativity — two essential ingredients for well-being.
Immersing people in the experience of art, this is what we do as a profession. We lead art workshops in Italy, France and Colombia. We paint the seductive landscapes of the Val d'Orcia and the Val di Chiana, or Provence. Every evening, around the supper table, usually dimly lit by four candles dripping on Chianti bottles, we would have lengthy discussions on various topics such as art marketing, contemporary art, sociology of the arts etc.. And every night our guests would be amazed at the beauty and the scrumptiousness of our meals – we had learned how to cook by working out our recipes hundreds of times for our artists, as well as for family and friends, and by having tasted authentic dishes and new flavours in so many restaurants all over the world. As the years passed we came to notice that around the end of each Studio Italia workshop, the same comment would creep back in at the table: "Why don't you write down your recipes? Photocopy them into a little booklet and sell them as a souvenir of this wonderful workshop." We smiled politely, thinking that everyone was able to cook as well as we did. And our answer was always the same: "One day, when we have time between two articles or two classes or two flights or…" But one year, a participant in the publishing business suggested that these recipes "be" published, and she was dead serious. So, perhaps all our former participants were right. We finally came to accept the fact. Why not?
The Authors

Yves M. Larocque (Ph.D. Art History, B.A. Visual Arts) and Mónica Márquez (M.A. International Affairs, B.A. Business Administration) work together leading residencies in gourmet art workshops especially in Italy and France. Both are visual artists and self-taught chefs who embrace creativity and innovation in the kitchen. Since 2001 Yves and Mónica have been cooking epicurean meals for hundreds of artists and art lovers from all over the world who have joined their art workshops offered through Walk the Arts (www.walkthearts.com).  They have also given cooking classes at Ottawa's LCBO (Liquor Board Control of Ontario), the world's largest purchaser of wine and alcohol. In addition, Yves and Mónica have traveled extensively experiencing the culture and food of countries on five continents.