100 + innovative recipes inspired by Italian Cuisine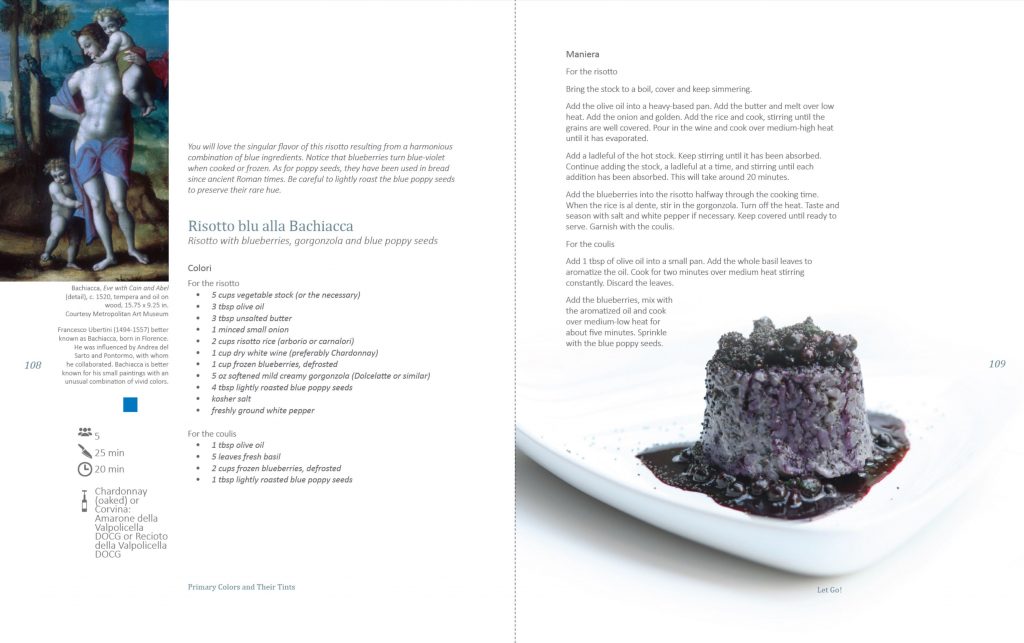 with:
Prepartion time
 Marinating | chilling time
Number of servings
Cooking time
Suggested wine pairing
categorized by:
Antipasti
Pasta | Risotto |Soups
Fish | Shellfish | Crustaceans
Meat | Variety | Meats
Poultry
Vegetables
Game
Desserts
10 Chapters (text and beautifully illustrated)
Excerpts from Let Go! The Artist's Way of Cooking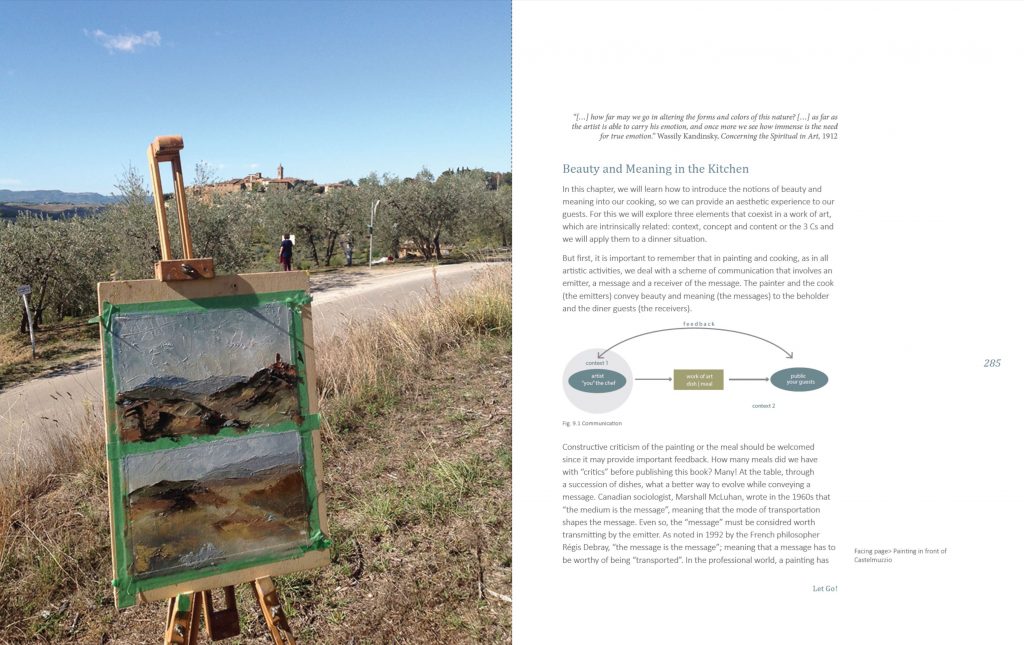 The Introduction    
"This is a cooking book. This is an art book. This is a book for everyone aiming to feel the pleasure of color and the joy of seeing, touching, smelling – in brief, creating. This book deeply believes in the power of art to bring joy to our daily lives and to enrich our present moments. This book believes that art can be made anywhere and anytime. In brief, this book offers an innovative and sound method of cooking with colors that will trigger your creativity in the kitchen. Your kitchen now becomes an artist's studio. […]
There are hundreds of excellent books on cooking published every year. Just like in art we certainly needed to propose a new idea, a new vision, a new approach to cooking that may lead our readers to live a rewarding experience. We could not repeat what had been previously written and what was easily accessible on the Web. We had to do more; after all, we offer art experiences! We needed to find a modus operandi close to who we are and what we do as visual artists, and we have found it. The answer was right in front of us […]
Chapter 1 > Time for Art and Cooking
[…] In a perverse way, our addiction to speed when it comes to food has made us more aware of our time — or perhaps we should say, what is left of our time. We now realize that time is precious. The technology that formerly marginalized healthy eating and fine dining now allows us to become more knowledgeable and innovative, even about eating and dining, within an ever-changing world. The Web gives us access to information, people and ideas from around the world. It gives us enormous choice as we are free to choose and ask questions before we choose. […]
Stop! Relax! Find calmness in your kitchen; take time to build a new paradigm that allows you to create and cook! Rekindle old friendships around a good hearty meal and a fine bottle of red wine. Without a doubt, these are among the most precious moments of our lives…
Chapter 2 > Our Method
How can we cook as artists paint? How can we cook in a creative way? First, by applying simple color theory principles to our dishes. Second, by experimenting and letting go. And third, by introducing the notions of beauty and meaning into our kitchen. […]
Chapter 3 > Primary Colors and Their Tints
Do you remember your first set of colored pencils? And what a joy it was to move from a set of 12 to a set of 24? Today the variety of colors that we find not only in pencils, but in acrylics and oils too, is enormous. Interestingly, with a growing acknowledgement of the therapeutic value of painting, adult coloring books are becoming very popular. […]
In this chapter we will learn how artists create a wide spectrum of colors by mixing one primary color — yellow, blue or red — with white. […] It may also help you to become more aware of the diversity of colors in fruits and vegetables […]
As artists buy high-quality paints, be sure to use fresh, top quality fruits and vegetables. Good quality ingredients make all the difference in the final dish. This explains why chefs are among the first customers to arrive at a market.
Chapter 4 > Secondary and Complementary Colors
[…] Let's bring what has been said in this chapter about color theory into the kitchen. Just as the visual appeal of the union of complementary colors immediately enhances the beauty of a painting, so it does for a dish, and it also makes meal preparation extremely enjoyable. […]
Chapter 5 > Tertiary and Analogous Colors
[…] One day, we went on a hunt for yellow, yellow-orange and orange ingredients to create a new risotto. We decided to try the combination of turmeric (yellow), dried apricots (yellow-orange) and carrots (orange). And thus our Risotto alla Nosadella (see p. 178) was born. Notice that we used nutmeg, which is brownish, because of its affinity with carrots and knowing that it would not affect our desired harmony effect. And look at the clear set of analogous colors in the painting that accompanies it. Try our unique dessert Pizza alla Nosadella (see p. 202) which combines orange bell peppers (orange), nectarines (red-orange) and strawberries (red). […]
And be ready! Be spontaneous and imaginative! Trust the process. Be aware of the here and now, and enjoy!
Chapter 6 > The Browns and Their Tints
[…] it is time to move away from the notions of brightness and lightness to enter into the world of shades, tones and dullness (see sidebar with definitions on next page). […] Adding cream to a dark sauce results in a beautiful tint. But remember not to go heavy on sauces because they should not overpower your dish. Use a white plate and lay down your sauce as a background for your dish. Do not pour it over your meat. A sauce is meant to enhance flavor, not to obstruct it. Use it as a coulis, and bring a sauce boat to the table for guests who crave for more of your sauce. The heavy sauces of the past have become less popular because of changing eating habits and hectic schedules. Today, sauces are lighter and easier to prepare. As you will see in our recipes, we do not thicken our sauces with flour to avoid its resulting heavy effect and artificial flavor. […]
Chapter 7 > The Blacks and Grays
[…] In this chapter we will explore the notions of darkness and light. We will also understand better the concepts of value and intensity. While we usually prefer light and brightness rather than darkness and dullness, the mysterious nocturnal world with its austere shades and gloomy shadows can also be very appealing. Let's work with the inner harmony of blacks and grays to create culinary works of art. […]
Chapter 8 > Letting Go in the Kitchen
[…] Uncertainty and randomness often frighten us for they imply leaving our comfort zone to face the unknown. […] The unknown implies new territory, crossing thresholds and exploring the mysteries of the soul and mind. Twentieth-century Surrealists, led by the French intellectual and writer André Breton (1896-1966), used art techniques that involved chance or that derived from psychic experiences. […]
Throw yourself into your meal preparation! Let go! And keep in mind that venturing into unknown territory can lead to good or bad surprises. Your judgment of the experience will be influenced by the surrounding circumstances. […]
Chapter 9 > Beauty and Meaning in the Kitchen
In this chapter, we will learn how to introduce the notions of beauty and meaning into our cooking, so we can provide an aesthetic experience to our guests. For this we will explore three elements that coexist in a work of art, which are intrinsically related: context, concept and content or the 3 Cs and we will apply them to a dinner situation. […]
Context, Concept, Content […]
Chapter 10 > A Synthesis – Menu El Greco (proposed)
It is now time to eat, just like the Bean Eater does in the painting by Bolognese artist Annibale Carracci (1560–1609) on view at the Galeria Colonna in Rome. […]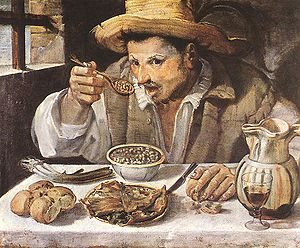 The Bean Eater, which depicts a humble peasant eating black-eyed beans and a sort of vegetable pie, makes us realize that Italian table manners have not changed much since the 1580s. Apart from the fact that in 16th century Italy, forks were used only by the upper classes, the white tablecloth remains, the vino della casa is still revered, and the whole loaf of bread or slices of it are brought to the table. Today, it is okay to mop the sauce on your plate with a morsel of bread ― fare la scarpetta in Italian ― and to take a lamb chop in your fingers to get at the last juicy pieces. At home we love to serve our meals this way, all'italiana, so our guests feel relaxed. We lay a white tablecloth, bring a bottle of wine to the table and break the bread on the tablecloth. We believe in robust, rustic elegance at the table, eating with both gusto and sprezzatura — as said before, an untranslatable Italian term borrowed from Baldasare Castiglione, that means eating with an elegant natural ease, in an apparently effortless way. […]
The quality of the aesthetic experience is personal and will vary according to the level of affinity among you and your guests, as well as the group dynamics.
Conclusion | Ci Vediamo
[…] We hope that you enjoyed this book as much as we enjoyed the process of creating it. Our passion for art history, painting, and concocting with pots and pans made this experience incredibly rewarding. When we love doing something, it seems effortless. Originality is the first criterion of art because every person is unique. We were all born with a specific natural disposition, in an exact time, at a precise place, within a specific context, and we accumulate unique experiences in our thirst for a better life. As we remain true to ourselves, as we sincerely express who we are and who we are becoming, we open the channel of authenticity. Landscapes, flowers and portraits will always exist, and also their representations, but it is up to us to convey them in a language of our own. The same applies in cuisine with soups, omelettes and sauces. This language of our own should never fear setbacks and persecution. Let's keep daring! Let's keep believing in ourselves!